Luxury Villa with private pool, sauna, gym and unique gardens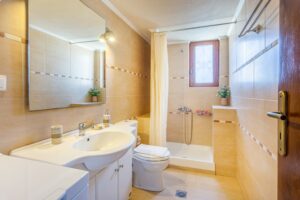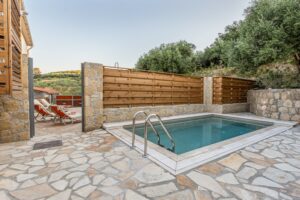 Villa Kamelia is a traditional stone maisonette that can accommodate up to 3 persons. The villa consists of 3 levels. The entrance is on the level of the living room and kitchen, on the same level you will find the bathroom. Directly above you will find a small attic where you will find a comfortable bedroom surrounded by local wooden art. One level below, you will find the master bedroom, all made to showcase the unique style of Cretan culture. Both the living room level and the master bedroom level house a balcony with truly breathtaking views of the mountains and olive groves in the distance. The villa is ideal for a small family and can also offer a baby cot on request. Outside there is a beautiful courtyard surrounded by olive trees, embracing a stone swimming pool. In the courtyard, our guests will also find sun loungers so they can relax during the day, under the refreshing shadows of the trees, when not enjoying a refreshing dip in their private pool. Villa Kamelia, part of Olive Villas is also located in the village of Krya Vrisi, amidst meadows, orange trees and vineyards. It is a traditional family house located on the site of an old olive press that has been in the family since the beginning of the 20th century. The rather newer mill that remained operational until the 1970s is still next to the house and Olive Villas Estate continues to produce excellent quality extra virgin olive oil. (a sample will be given to all guests). The complex is situated in a quiet location offering comfortable accommodation amidst fantastic nature, ideal for hiking and excursions in the area as well as experiencing the traditional Cretan way of life. It includes spacious bedrooms and living rooms, fully equipped kitchen, fireplaces, barbeque as well as terraces with wonderful views of the Cretan mountains. Chania / Kolymbari area Kolymbari, a quiet village nestled between the Mediterranean Sea and the magnificent green rocks, is only 12 km away from our accommodation, which is still relatively unaffected by tourism. Kolymbari is known for its beautiful sandy beach, a small fishing port, welcoming tavernas and cafes, as well as many restaurants and a few shops. Olive Villa is located in the village of Krya Vrisi, 30 km southwest of Chania city and 12 km from Kolymbari beach. Its traditional stone architecture blends seamlessly with the surrounding fields of vineyards, olive and orange trees and the wonderful views of the local mountains. It is the ideal place to relax during your holidays in Crete.
Iron

TV in the room

Electric kettle

Hair Dryer

Coffee tea-coffee and tea maker
Submit the following form and we will be in contact with you immediately.
The fields with (*) are required!