Dimitra – Maisonette Suite with Balcony
Luxury Villa with private pool, sauna, gym and unique gardens
Dimitra – Maisonette Suite with Balcony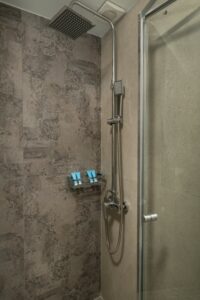 Dimitra's Central Apts is the leading luxury brand in the city of Chania for short or long term stays. It was built with a unique mission to offer top quality accommodation combined with its unique location. Every piece of The Dimitra's Central Apts & Suites, from the satin sheets and anatomical mattresses to the toiletries and all appliances, were carefully assembled to provide a more enjoyable stay while visiting the enchanting city of Chania. The Maisonette Suite with Balcony is a spacious maisonette-style suite with minimalist decor, ideal for short or longer stays. Whether traveling for leisure or business, Dimitra Central Apts is sure to have everything you are looking for.
As for its location, it is situated in the heart of Chania city center, just a few meters away from all the famous attractions of Chania, such as the Venetian harbor and the Old Town. Fully equipped with all the essentials for a comfortable and luxurious stay, yet close to the most popular area of the city, where most of the restaurants and bars are located. Dimitra Central Apartments is the ideal starting point for exploring both the historic centre of Chania city and the hidden gems of the area, such as Falassarna, Elafonissi, Balos and Gramvousa beach, as it is ideally connected to all means of transport. By its location, the apartments are conveniently located right in the heart of Chania, yet on a not so busy street that ensures both your privacy and relaxation. While its architectural design is sure to enchant you.
Iron

Kitchen

Central heating

Wi-fi

Coffee maker
Submit the following form and we will be in contact with you immediately.
The fields with (*) are required!